Asian shares give up early gains as political risks loom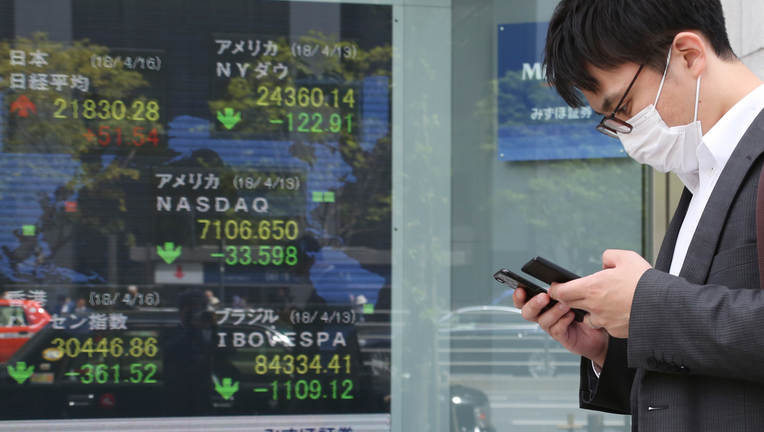 Shares were mixed in Asia after an upbeat start to the week, with Chinese benchmarks leading decliners. The air strikes on Syria appeared to be having scant impact on trading Monday. Eyes were on Chinese GDP data due on Tuesday.
KEEPING SCORE: Japan's Nikkei 225 index gained 0.3 percent to 21,839.47, but Hong Kong's Hang Seng dropped 1.5 percent to 30,355.93 and the Shanghai Composite index sank 1.5 percent to 3,111.65. South Korea's Kospi was flat at 2,454.86 and Australia's S&P ASX 200 picked up 0.2 percent to 5,838.60. Shares fell in Taiwan and Singapore and rose in Indonesia.
MIDDLE EAST: The leaders of Russia, Iran and the Hezbollah group in Lebanon said Sunday that Western airstrikes on their ally Syria, targeting its chemical weapons program, have complicated prospects for a political settlement to the country's seven-year conflict. Meanwhile, President Donald Trump on Sunday defended his use of the phrase "Mission Accomplished" to describe the U.S.-led missile attack, while his aides stressed continuing U.S. troop involvement and plans for new economic sanctions against Russia for enabling the government of Bashar Assad.
ANALYST VIEWPOINT: "The markets are taking the surgical strike at the heart of Syria's chemical weapon program in stride as traders had priced in this outcome with a high degree of probability," Stephen Innes of OANDA said in a commentary. He added, "With trade war and now Syria fatigue likely to set in, however, it's best not to get too comfortable at this point as market risk sentiment swings will remain large this week."
CHINA TRADE: The Trump administration on Friday targeted China and five other countries including allies Japan and South Korea for special monitoring for what the administration says are practices that are worsening America's trade deficit. But the impact on financial markets in Asia was limited as it comes at a time of even harsher threats of U.S. penalty tariffs on China and other nations.
CHINA ECONOMY: Chinese shares declined ahead of the release of economic growth data that are expected to show the economy overshooting the official target to sustain a 6.8 percent annual pace in the first quarter of the year. Tuesday's report of monthly figures for March, the first since the lunar new year holidays, will provide fresh insights into conditions across the world's No. 2 economy.
WALL STREET: On Friday, bank stocks buckled despite reports of higher profits for some. The S&P 500 fell 0.3 percent to 2,656.30, paring the index's gain for the week to 2 percent. The Dow Jones industrial average dropped 0.5 percent to 24,360.14, and the Nasdaq composite lost 0.5 percent to 7,106.65. As a group, financial stocks in the S&P 500 fell 1.6 percent, more than double the loss for any of the other 10 sectors that make up the index.
ENERGY: Oil prices fell back from spikes last week on fears over an escalation of strife in the Middle East, with U.S. benchmark crude falling 58 cents to $66.81 per barrel in electronic trading on the New York Mercantile Exchange. It gained 32 cents on Friday to $67.39. Brent crude, which is used to price international oils, fell 73 cents to $71.85 per barrel.
CURRENCY: The dollar was trading at 107.25 yen, down from 107.36 yen late Friday. The euro edged higher to $1.2335 from $1.2333.